This is Schnauzinn's Limited Edition she is 4 months old and is DNA clear for PRA-A, Type B PRA, Myotonia Congenita and has a clear eye certificate.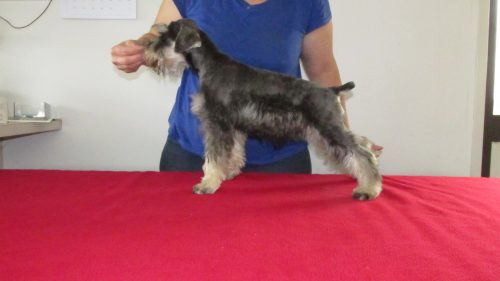 Welcome Max (Oasis Maximum Thriller). Max has been neutered at our request and is 10 just about 11, he is part of our rehoming for life policy, we owned a half share in him a few years ago and had one litter by him, we found out that the breeder who had him just did not have the room to keep him on so we have put our hand up and Max is now retired and being house trained.
ONCE OWNED BY SCHNAUZINN ALWAYS LOVED BY SCHNAUZINN.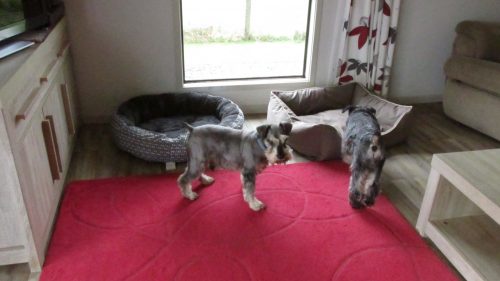 We are very proud of our boy Gibbs who has had a nine week course of dog obedience, he very much enjoyed the classes and did very well below are his certificates, he was awarded Most Outstanding Team and brought home a bag of food which Max will enjoy when he joins us next week. We look forward next year to trying our hand with Canine Good Citizen with Gibbs.
We are very pleased with the little girl that we have kept from Misha and Storm's litter we have called her Schnauzinns Limited Edition (Tosca) she is pepper and salt. She has graduated from puppy preschool class and picked up stays on the last night like she had done them all her life, we look forward to taking her along to dog obedience next year.
It is a lot quieter here now just a couple more of our black and silver puppies left to go home.
Some of our pepper and salt puppies will be leaving us this week we will miss them all, they have been a lovely litter of friendly puppies, Dad did say something about peace and no one swinging on his beard until I reminded him that we are keeping one of his daughters, heard a doggy mutter about no respect. We will add a photo of her once it quietens down she is off to puppy classes this week, we called her Tosca.
Our dogs are enjoying the completion of the final cottage, we will be adding some cobblestones around the cottages in the new year but Ian will need a holiday first before we work him to death.
Second photo shows Gibbs enjoying the deck on the side and the final one of the girls chilling out on the deck.
Gibbs is enjoying his dog obedience classes. Test night approaching we will have to have our A game on.
e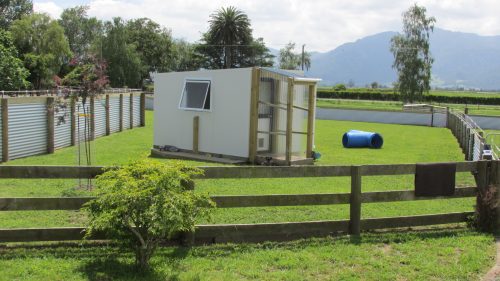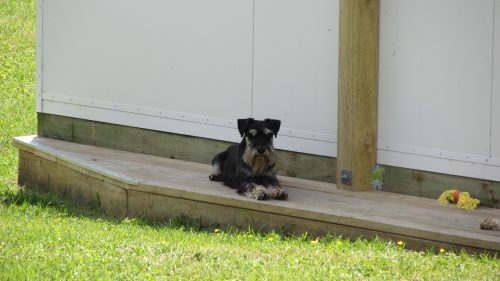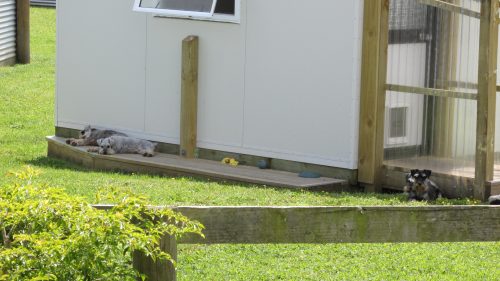 Welcome to Kitt's litter of five.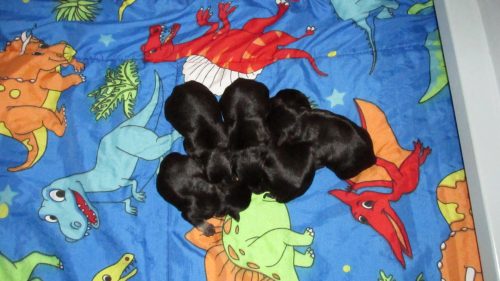 Welcome to Misha litter of seven.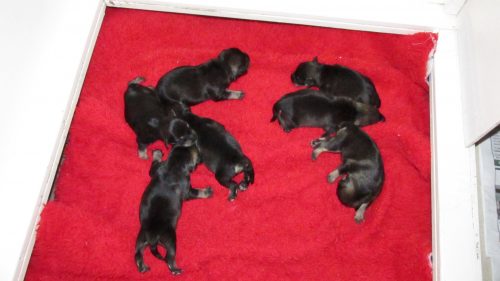 Photos of our new boy from Argentina, we  very excited about this lovely puppy.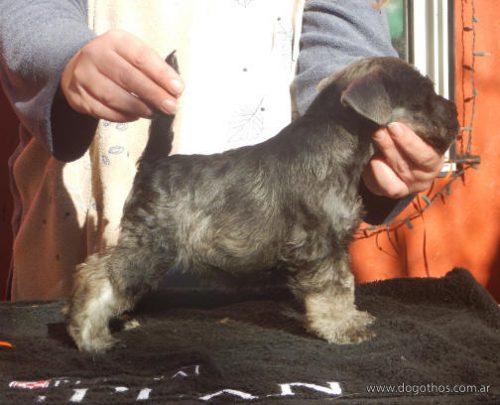 We farewelled Jake (Willowcreek Kiwi Bound) this month he will be greatly missed, we wish him and Jeffrey grand adventures and a lifetime of loyalty.
We have retained the breeding rights to one of his sons we have called him I'm a Kiwi at Schnauzinn, we will add a profile page for him as he grows, all his test results are in and he is clear for PRA-B, clear eye certificate and clear by parentage for PRA-A, MAC, Myotonia Congenita, Factor V11.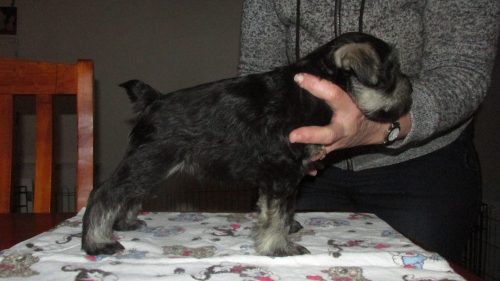 We are the first and at this stage only breeder testing for PRA-B and MAC these are both important tests. PRA-B is a new test  but will prevent you ending up with a blind dog. (we have tested for Type A for years but according to Optigen leading researchers in PRA in miniature schnauzers this is now rare)
MAC is a form of tuberculosis that can be passed on to humans and proves fatal to the dog.
Results 
 MAC Results
Oasis Storm Raider    CLEAR
Willowcreek Kiwi Bound    CLEAR
Dog-otho's Silver Guy     CLEAR
Sasha's Finale at Schnauzinn    CLEAR
Schnauzinn's Storm Chaser      CLEAR
Tinoby Storm Magic                CLEAR
Schnauzinn's Major Thriller      CLEAR
Cheraton Songbird                  CLEAR
Tinoby Storm Magic           CLEAR
 Type B PRA Results
Oasis Storm Magic            CLEAR
Willowcreek Kiwi Bound      CLEAR
Dog-otho's Silver Guy          CLEAR
Kiwi's Legacy at Schnauzinn    CLEAR
Sasha's Finale of Schnauzinn   CLEAR
Schnauzinn's Major Thriller      CLEAR
Schnauzinn's Storm Chaser      CLEAR
Cheraton Songbird                  CARRIER (she will need to go to a clear dog only, all our male dogs are clear.)
Tinoby Storm Magic                 CLEAR
Schnauzinn's Storm Dancer      CARRIER (she will need to go to a clear dog only, all our male dogs are clear)